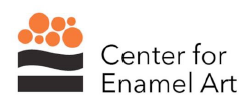 Thank you for contributing to the Center for Enamel Art.
Please fill out the form below (your details will not be used for any other purpose, and your email address will be scrambled so it can't be stolen). Don't forget to press "submit".
 After submitting your form please click on the appropriate PayPal donation button on the right hand side of this page for either a one time donation ("donate") or a recurring donation ("subscribe").