Make an Impact. Volunteer your time and skills.
In order to carry out our plans we rely on you!  If you do not live in the SF/Bay Area we can still use your help. If you don't enamel, but the think the Center is a cool project to be involved with, we welcome you.
WE NEED YOU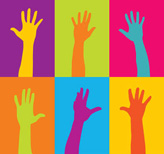 1. Grant writing, fundraising. If you are great at development, fundraising, or just plain PR, we need you.
2. If you are a graphic designer, we need your design expertise to help us be visible and exciting.
3. If database management is your thing, do we have data fields for you!
5. If you are a collector and want to get together a group of enamel collectors to support the Center, let's talk.
6. And finally for all you locals who want to help; we need folks to inventory donated items, help with fundraising events, work on Center programming, etc.
We look forward to hearing from you and we'll be in touch. Thank you!