Over the next few weeks we will post excerpts from interviews with several of the enamel artists in California Now, as well as images of their work. The exhibition runs through August 21st at the Richmond Art Center. 
---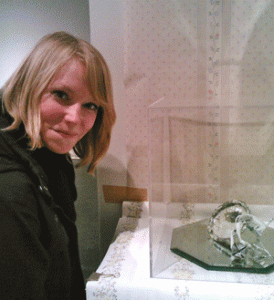 Victoria Montgomery
Victoria Montgomery worked primarily in metal until 2009, when, in her final semester at California College of the Arts, she stumbled on enameling in a class with Deborah Lozier. It has been, she says, "a love affair ever since." Here, she tells us about her approach to her art, why mystery metals are so fun to enamel, and the rewards of being "materialistically rebellious."
---
What drew you to this medium?
I needed the class for a credit. I assumed, very incorrectly, that I was going to hate enamel. I had no interest in color (I thought), on anything really, and especially not on something as sacred as metal.
What was that class like?
Deborah was a godsend! I was stressed and over-worked, dealing with graduating and finishing up my thesis show preparations. I was like a tightly coiled spring. That class was like an artistic playground for me. I was given complete creative freedom. Deb has the amazing ability to teach without ego. She doesn't get offended when someone wants to wrestle with materials or expectations, tradition, etc. She has an encouraging spirit and a great gift for teaching. I cannot express the gratitude I felt for the timeliness of that class. I fell in love with enamel that year.
"Enamel represents something to me. I can't quite put my finger on it. It is a set of confines that can at first seem very restrictive. But instead, it is so very freeing."
How do you work with the media? Do you consider your techniques experimental?
Very experimental. I used to jokingly call my work "post-abstract expressionist craft." I become very painterly and layer enamel on with a heavy hand/brush. I approach each piece with little to no attachment. This was my main reason for using found objects. I did not want to fear losing them. I didn't want to hammer out a perfect bowl to then have fear overcome me when I had to place it in the kiln.
I also love the unpredictability of the found object. Many of the vessels, plates, and platters found in thrift shops are not clearly labelled. They have chemical finishes and various alloys and platings. They are mysterious and one is never really sure how they will react in the kiln. This is where it gets exciting. The plating can start to boil up and pool or bead in strange ways. Then the enamel gets pushed around and reacts to that reaction. I respond with another layer of enamel and around we go again. Sometimes the enamel won't even adhere to the surface for several firings. I just respond to it all situationally and on a case-by-case basis.
What role does enamel play in your creative process?
Enamel represents something to me. I can't quite put my finger on it. It is a set of confines that can at first seem very restrictive. But instead, it is so very freeing. It is rich in history and tradition yet begging for experimentation. It is fragile yet substantial. It is fluid yet solid. It is at once, hot then it is cold. It is such a complex material and process.
Where do you find inspiration for your work?
Upon investigating enamel, I was simultaneously deconstructing my personal art history. I was questioning craft and the decorative arts. I began isolating objects that represented the decorative arts to me. Earring backs, silver serving platters, jewelry chains, etc were all confiscated from their original intention and re-purposed in a new visual arrangement. Earrings became hooks or rivets, safety pins became links in an enameled chain, vice grips became structural elements, etc.
Enamel was the glue that visually and conceptually brought it all back to craft. Isolated and out-of-context, these elements are reconstructed to be completely new while finding themselves abstractly decorative all over again. So I guess I would have to say I am materialistically rebellious. I am inspired by the assumed purpose of an object, material, process and then by the opportunity to upend that expectation while still striving after beauty.
What are you working on now?
I am working on a series of watercolors that are imitating old wallpapers. These are preliminary drawings of a sort for a series of decorative enamel plates that camouflage themselves into the wall on which they are hung.

What advice would you give someone just starting out in this medium?
Experiment! Read up on advice and how-to books all you want, but then test it out. Listen to the advice of the enameling pros and then question, question, question. Pour yourself into it. Make lots of mistakes; beautiful, messy mistakes. Make up your own rules and then question those too. Be fearless. Fearless art is the best art of all.