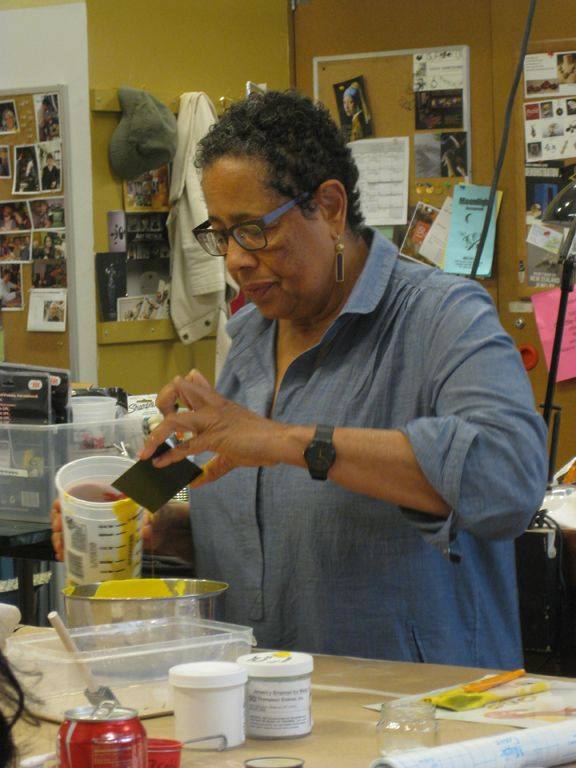 Here, we have shared portions of an interview that Helen Elliott conducted with the Enamel Guild Northeast this spring, in which she talks about her process and her inspirations. 
In Helen's luminous enamel works, shapes and colors glow from the depths of flat panels. Her work, which includes other media, leaps past traditional notions of enameling. She will be teaching enameling on steel in a Radical Enameling workshop from September 25 – 28 at KVO Industries in Santa Rosa, CA. This will be a rare opportunity to work large-scale in this fascinating medium with one of its masters!
How did you come to express your art through porcelain enameled steel?
My process has been largely experimental and is the way I have always worked in this medium.  One of the reasons is that when I was first introduced to enameling in England, I was the only one exploring this medium in the department.  There were very few instructional books (none of which appealed to me) so it was trial and error for me and paying attention to details of change that took place before my eyes.  Years later while working with liquid enamels on steel, I was again on my own discovering through experimentation.  Although I had by this time done a few workshops, I was the only one working on my MFA using this medium at that time at Kent State in Ohio.
Yet another prevailing condition that motivated me to find different approaches to enamels was the fact that I felt confined using porcelain enamel on steel which was very glossy bold colors and seemed suitable for signage.  The constraints of this medium had very little appeal to me.
Of course, this was an industrial material that I was translating into art.  My frustration propelled me to manipulate and do everything I could to change the appearance of what I saw before me, and this opened up a new set of possibilities.  
Only then did I become excited about using this medium and have been happy with it ever since.  I have been called "the stoning queen" as this has been one of the most effective tools to create nuances and subtle changes from the otherwise glossy, resistant enamel.  The painterly quality came through my experience with painting on canvas.  It was not easy for me to make this transition to steel. Besides using a new medium, the application and way of working is quite different.

What aesthetic principles form the basis of how you work with enameled steel?
For me, enamel has such a wide potential that I enjoy challenging the medium in response to things that inspire me.  I am definitely inspired by the handmade.  My mother did the most intricate and beautiful handwork and used that as a means of adornment for our clothes.  When we were babies she would make french seams and use tatting (a dying art with the advanced technology that we have today) as added beauty to our garments.  Tucks covering the bodice of a pale pink organza were just exquisite.  But, at eight years old, you take for granted that this is the way things work.  In later years, I gained a greater appreciation of the creative environment that nurtured my work today.  

As I am from the Caribbean, many expect that my work maybe inspired by very bright colors and turquoise/ blue water!  Not so.  I found more interest in the subtle changes of nature as the seasons provided fascinating browns, ochres, greys, greens; colors in the trunks of trees and moss, stone, decaying wood and rust.  Nature provides such pattern and repetition, as well as those earthy colors, texture and indentations that are very appealing to me.  
I am not from the "throw away generation," so things were repaired, recycled, upcycled. Some things have an added haphazardness  to which I deeply can relate.  Shacks on the side of the road have interested and fascinated me since I was a child. The intuitive nature of how these are made and with discarded materials; some in their natural state, others painted and adorned in quirky, intuitive ways and beautiful.  They are a wonderful acknowledgment to the mark of the hand as well as survival and inventiveness.  My mark-making practice speaks to these influences and inspirations that feed directly into a collective memory.
Why have you done so few large-scale projects?
I would have liked to have done more large-scale projects, but facilities are not always accessible and feasible to do such projects.  The good news is (which is something I would like to emphasize to students in my class) the possibility of working in composites.  This lends itself to exciting possibilities.
Is the Radical Enameling workshop you will be teaching at KVO Industries mark the first time you will have worked within an industrial setting?
I have never worked in the porcelain enamel industry but my teaching style is very adaptable to a variety of settings. I think it important to provide information that will give the student a starting point and entice them to learn some more.  I am attempting to share the knowledge and experiences that I have gained over the years.  As students become more comfortable with handling the medium, I explain ways of working that will build a vocabulary of processes; students can take that information, work with it and make new discoveries towards finding their own voice.