The Center for Enamel Art is excited to host a guided bus tour on Saturday, June 25, of the work of noted Sacramento enamel artist Fred Ball.
To learn more and to register, click here. 
---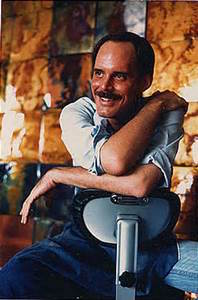 Fred Uhl Ball: The Legacy of a Pioneering Artist
Recently, I have been wondering about the legacy of one the most important American enamelists of the 20th century, Fred Uhl Ball (1945-1985). I never met him, though he lived, worked and taught in Sacramento, CA, about an hour from my home, and frequented the supply store in San Francisco where I bought my enamels. But even in absentia, Ball was a mentor to me. His book, Experimental Techniques in Enameling (1972), came out the same year I began enameling professionally, and formed the basis of my journey into enameling.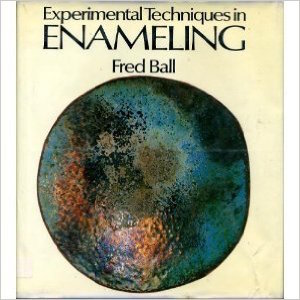 It was easy to be affected by Ball back then — his influence and presence resonated throughout northern California. He was an icon, the son of well-known Sacramento artists, and thoroughly of the area in which he lived. His work was commissioned and collected by a variety of patrons, and he produced several large-scale wall commissions for both public and private spaces. The most recognizable of his pieces, The Way Home, was installed on the side of a large parking garage in downtown Sacramento, and for many years was the featured image on the front of the Thompson Enamel catalogue.
An Untimely Death
Ball died young, at a time when his potential seemed limitless. Hospitalized after an assault and apparent robbery attempt outside his studio one evening, Ball never recovered from his injuries, and died three months later. Two years after his death, the Creative Arts League mounted an exhibition of his works with an accompanying catalogue, and circulated a list of his large works in and around Sacramento that were accessible to the public. But since then, Ball's work and influence, so vital and indelible during his lifetime,  has slowly begun to fade from public discourse, and from the enamel pantheon.
His book has been long out of print. Several of his public installations have been moved to less accessible areas or mothballed. The Way Home was removed from its backing three years ago for restoration and only recently remounted, although the separate pieces (all 1,488 of them) could not be re-enameled due to extreme deterioration from water seepage. Many of the most avid collectors of Ball's work are aging; what will become of their Fred Ball pieces is anyone's guess.
And though Ball's influence on the Sacramento arts community has persisted, mostly through the memories of those who knew him and the presence of his large scale works hanging in public places, the knowledge of who he was and what he did gets pushed further into the past as time passes. Many younger enamelists today who are working with Ball's experimental techniques have never heard of Ball or his groundbreaking art.
For example, the ubiquitous use of Thompson Enamel's 533 white among the newest generation of enamelists is actually directly descended from Ball's pioneering work. Originally these enamels were developed by the enamel industry to coat steel. Thompson sold them as a cover coat over pre-enameled copper surfaces  on which they produced all kinds of what they called "crackle" effects. Ball departed from both of these uses, firing these enamels directly on copper and calling them liquid enamels.
Resurrecting Ball
The enameling community began to rediscover Ball and his work in 2007, with the retrospective exhibition Painting with Fire: Masters of Enameling, 1930-1980, presented by the Long Beach Museum of Art. Ball was one of four contemporary enamelists represented in the section called New Directions, 1960-1980.
That exhibition, and the subsequent Ball retrospective mounted by the Enamel Arts Foundation, in 2009 at San Francisco Museum of Craft+Design, reacquainted many people with Ball's work. And the Enamel Arts Foundation, founded by Hal Nelson and Bernard Jazzar (who also curated the 2007 Painting with Fire retrospective), has done a spectacular job in presenting Ball to a new generation of enamelists and admirers.
On June 19, 2016 the traveling exhibition Little Dreams in Glass and Metal: Enameling in America from 1920 to the Present opens in Sacramento at the Crocker Art Museum. The Enamel Arts Foundation is responsible for bringing this exhibition to Sacramento, and for bringing 20th-century enameling back to roost in Fred Ball's hometown. One large piece, which was in a private Sacramento home before being acquired for the EAF's permanent collection, is at the center of the exhibition.
Still Relevant, But Endangered
In 2010, the Northern California Enamel Guild hosted a bus tour in Sacramento of some of Ball's commissioned pieces in public and private collections. The tour stopped at the Crocker Art Museum, where a curator showed the tour participants some of Ball's enamels in the Crocker's private collection. Susan Willoughby, a friend of Ball's and the executor of his estate, was the docent on the tour.
The Center for Enamel Art is thrilled to be able to reprise that historic tour during the time that Little Dreams is in Sacramento. Happily, Willoughby will also reprise her role. Tour participants will again be given a special showing of Ball's work in the permanent collection of the Crocker. And the rich selection of works in Little Dreams will help put Ball into the context of American enameling. Perhaps most importantly, participants will understand how grounded his work was in a sense of place. So much of his art is a valentine to the city and the land, the rolling hills around Sacramento, and the colors he saw each day in the earth and sky.
But as important as Sacramento was to Ball, there are troubling signs that Ball is no longer as important to Sacramento. Instead of being celebrated as a local treasure of national stature, Ball is at risk of being lost to the ages. Willoughby believes that this may be one of the last times the public will be able to see some of these works. Some sites from the 2010 bus tour, which had housed monumental Ball pieces, have replaced those pieces or moved them to inaccessible locations.
I hope that those of us who believe in the enormous significance of Fred Ball's contributions to enameling and to art will help keep his legacy and his influence alive, especially in the city he loved.
For more information about the Fred Ball Bus Tour, and to register, click here.