This is the fifth in a series of guest posts by the enamel artist Kat Cole. This post previously appeared on her blog. 
---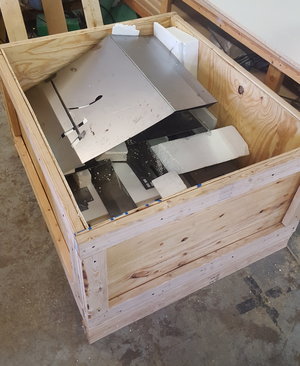 The more sculpture I make, the more I realize one of the biggest hurdles is shipping. It is not as easy as picking up a flat rate USPS priority box and making sure to insure it, which is usually simple and inexpensive when shipping jewelry and small objects. The logistics of transporting these three- to four-foot panels to and from California has been one of the more stressful components of this project.
I had hoped to get a crate made, but quickly realized the expense would be far too high. I would need to budget in time to make it myself. Having heard plenty of horror stories about freight shipping gone wrong, I knew the crate needed to be well-built to withstand anything that might happen along the way.
A couple of YouTube videos later, I felt reasonably competent that I could make my first crate. With a little help and lots of sweat I made the 4x4x2-foot wooden crate. I did some dumpster diving at a local furniture store to get plenty of large Styrofoam to securely pack the eight panels. I had felt I had made it plenty big enough, but turns out I only had inches to spare.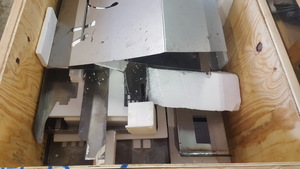 I was told to budget ten days for the crate to make its way from Dallas to Santa Rosa. It was picked up the Thursday before the 4th of July weekend, and I have to admit to feeling some relief as I watched the truck drive away. The first leg of this project was completed.