This is the eighth in a series of guest posts by the enamel artist Kat Cole. This post previously appeared on her blog.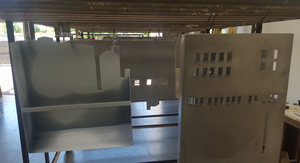 The process of enameling at KVO was a bit of a fast – slow – slow pace. I would have windows of time that I would have my spray gun ready to hop into the spray booth and get a coat on during the workers' breaks. Their workday would usually begin at 6am and go until 3pm. I got into the habit of getting there around 7am, enjoying the time just being in the space and listening to the guys chat. They were all helpful and knowledgeable about the various processes.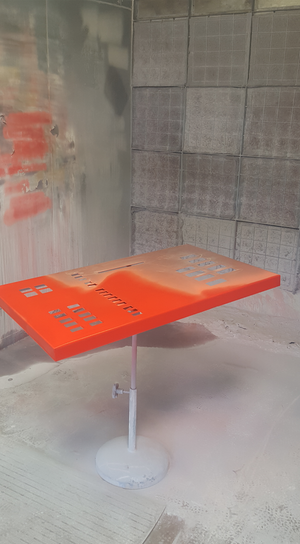 I would get most of my work done in the later afternoon once they had gone and I had most of the enamel areas to myself. Steve, the owner, would work with me helping to hang the panels and fire.  He would also share various finishing techniques, stories about some of his favorite projects, and his hopes that this facility would, over the long term, become more of resource for artists such as myself.    
The opportunity to work in this environment gave me a renewed appreciation for the industrial enamel objects that surround us and the technical skill required to produce them. Each of my panels had three to five firings and was finished over two and a half days. By Friday morning, I had only finishing touches. KVO's workers helped me re-pack the work, doing a far better and more secure job than I would have. Once the work was crated back up, and the whirlwind of an experience done, I was relieved and invigorated.