Instructor: Mary Chuduk
June 8-11, 2015 at The Crucible
The Center for Enamel Art would like to thank Thompson Enamel for its generous support of this workshop.
This new workshop explores all the surprising similarities of working in glass and enamel, which is also a type of glass. We will delve into the compatibility of glass embedded in enamel and experiment with sifting, stenciling, sgraffito, drawing and painting on fused glass with enamels. We'll also try out new materials that can be embedded into or floated on sheet glass. While we are waiting for our glass kilns to cool, we'll jump into some new directions with enamel on metal. The amazing potential of both of these materials, glass and enamel, opens up new avenues of expression for realistic and abstract imagery. Because of all the potential crossovers of fused glass and enamel, this workshop is open to all glass artists, metalsmiths, and enamelists.
Mary Chuduk, studio artist and author from Tempe, Arizona, has exhibited, taught workshops, and lectured nationally and internationally.  Enameling is the primary medium she uses in making jewelry, vessels and sculptural objects from copper and silver.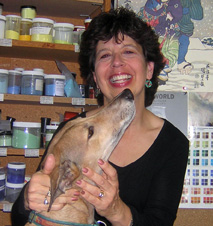 Mary received her Master of Fine Arts degree from Northern Illinois University, with additional studies at University of Grenoble, France, and post-graduate  work at Arizona State University.    Her work has received many awards and has appeared in numerous magazines and books, including The Art of Enameling (Linda Darty), The Art of Fine Enameling (Karen Cohen), andTeapots: Makers and  Collectors (Dona Meilach) and 500 Baskets (Lark Books).  She has also has written and published her own book Enamel: Technique and Experiments.