Instructor Jan Harrell
June 12-14, 2015 at The Crucible
By creating  personal silkscreens , enamel can be deposited and layered in a very effective and time efficient manner. Each participant will produce two 8 ½ x 11 inch 90 mesh screens that can contain several images that fill the letter size format. Computer generated images, fonts, pixilated photographs, repetitive drawings are all appropriate for the screen images. A simple light source will develop the screens that have multiple uses. Initially, they can be used for direct process, but the most exciting aspect of the workshop will be screening various mediums on special paper. With an arsenal of completed screened images, the addition to formed and flat enameled objects becomes simple.
Jan Harrell has been involved in the enamel medium for over thirty-five years. She received her BFA in Jewelry and Enamel from Texas Tech University. After raising her family, she resumed her studies at the University of Houston where she received her MFA in Sculpture in 2007. For the last 24 years, she has been the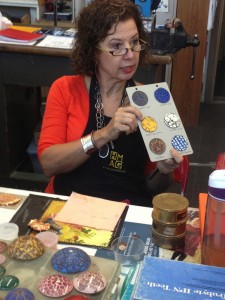 enameling instructor at the Glassell School of Art, the teaching school for the Museum of Fine Arts
in Houston, Texas.  Jan exhibits jewelry scale and small object work nationally and internationally and has been the recipient of numerous awards. Her work is included in several books on enameling and metalsmithing.