The good news is that the latest issue of T Magazine has a lush spread devoted to enameled jewelry and objects new and old. (Click here to read the article.) The luminous boxes of Jean Goulden rub shoulders with the incredible miniature artworks that are Alice Cicolini's rings and Morelli's meditation bells.
It's interesting, though: In the print edition, there's no mention of the word "enamel." The text reads, in full: "Through the Looking Glass: An ancient technique gets a new shine when applied to contemporary jewelry and objets." (The online version has the more Google-friendly (and accurate) header, "Enamel Adds A New Shine to Small Accessories.")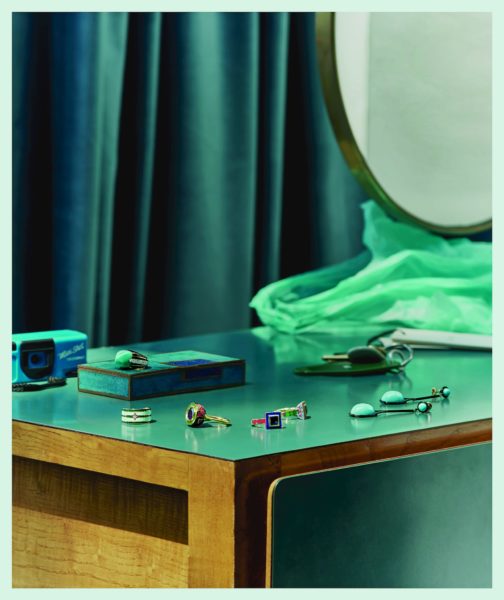 The photographs are pretty — still-lifes in dusty jewel-tones, the items scattered on shabby-chic dressing tables as though tossed there at the end of some fabulously debauched evening. Care has been taken with a whimsical mix of props –a bowl of candies, lipstick on a wine glass, vintage hotel keys. But the pieces themselves are lost in the scenery, an afterthought, the details and the colors almost too small to see. And those vintage aqua colored Belperron earrings, that pop so nicely on the page? They are made of turquoise and lacquer, says the website. Not enamel.
Just saying. We're delighted enameled work is getting such prominent billing. And we'll be even more delighted when everyone knows its name.