As you know, enamel artists are an inventive, passionate, determined bunch. We have to be, to pursue this medium that is technically demanding, that sometimes feels overlooked and obscure, but which has tremendous power. And we thrive on community–the community of classrooms, shared studios, craft fairs, and online.
As the online enameling community grows, and people seek out fresh imagery, old secrets, and new opportunities, we are excited to be part of that growth by expanding the scope and reach of our blog. As always, we will use this space to explore issues pertinent to contemporary enameling today, and to share the work of enamel artists — we'll just be doing it a little more loudly, a little more often.
We welcome your work and ideas. Exchanging work, insights and ideas helps keep enameling vital and evolving. That's part of the mission of our blog. Your blog editor loves to find your work in her inbox — email her at gro.r1518951536etnec1518951536leman1518951536e@gol1518951536b1518951536. We also have a terrific Instagram feed at @centerforenamelart.
In that spirit, here are a few images sent along by our readers recently.
Aaron Decker, a newly minted MFA grad from the Cranbrook Academy of Art, constructed and enameled these killer jewelry pieces inspired by his childhood toys. Each a few inches across, they were just shown at ornamentum gallery at Design Miami. Above, a brooch and a necklace from the series "Glass Cannon." More of Aaron's work is at his website, aa214.com, and on his instagram, aaronpdecker.
Jay Leritz, who showed at the Philadelphia Museum Craft Show in November, sent along a detail shot of a large wall piece made from enameled steel. Find Leritz on Instagram, @jay_leritz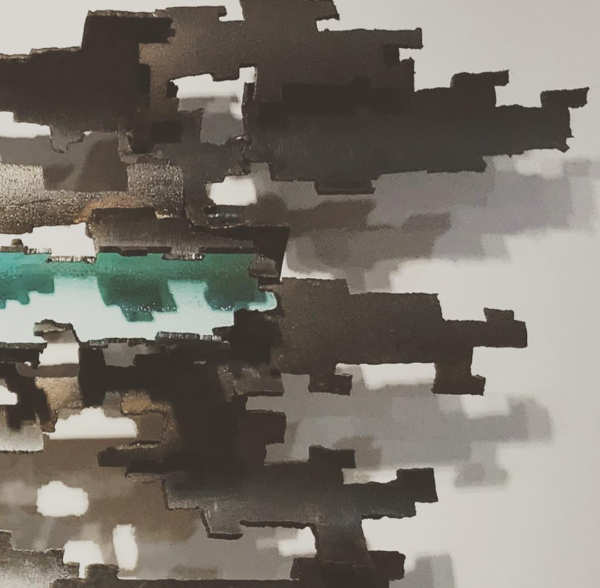 And we loved the mixed-materials approach from ARTISANworks by Rainmaker Designs, who make large sculptures from carved wood and metal, inlaid with enameled pieces.
Find more Rainmaker work here.
The enamel community is vibrant, strong, and growing. We are thrilled to be a part of it, and to be building it with you.