Are you the magpie always collecting bits of rusty steel on the street? Are there bits of magnetic metal in your studio that you've tucked away, swearing that one day you'll clean them up to make a masterpiece? Bring your rusty recycled bits and bobs to The Crucible in Oakland to learn the skills to turn these into beautiful and unique jewels.
This class will involve diagnosing scrap metals to find their suitability for enameling, proper enamel-on-steel surface preparation, liquid and sifted enamel application, trivet modifications (with titanium wire), and firing tips for steel. It will also include design tips for getting the most out of the enamel parts and to assist each participant in making their found pieces into wearable jewels and beautiful objects.
There is great narrative potential with steel and enamel, owing to steel's strength and durability over the other enamel metals. It can be used over much larger expanses, while remaining unexpectedly light. Steel is a chameleon, able to be used in luscious, precious looking works and the complete opposite, textured and dramatic displays, all able to be supplemented by the natural decay of steel. These inherent characteristics add richness to the colors and effects of enamel, and make it the ideal contemporary jewelry and object material.
Melissa Cameron was born in Perth, Australian in 1978. (BA interior architecture, Curtin University, Perth, 2002, MFA and metalsmithing, Monash University, Melbourne, 2009) She relocated to Seattle in 2012.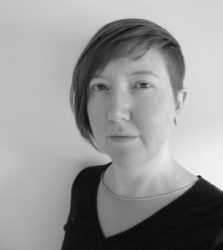 Melissa's works have been exhibited worldwide and are in several prestigious collections. She has participated in enamel residencies in the UK and Germany and the Penland Winter Residency in the US and her pieces are featured in Jewel Book, Art Jewelry Today 3 and Lark Books' 500 Silver Jewelry Designs, as well as the upcoming Tales from the Toolbox: Narrative Jewellery, edited by Mark Fenn. She is the recipient of multiple grants from the Australia Council for the Arts and a Fellowship grant from Artist Trust in Seattle. She has presented papers at many conferences and symposia. Her writing appears on Art Jewelry Forum. She currently serves on the Metalsmith Magazine Editorial Advisory Committee.
Melissa regularly teaches workshops  in Seattle, and was one of two featured enamelists teaching and presenting at the Enamel Guild Northeast Conference in 2015.
She recently won a best of show award for her pieces in the 2017 Alchemy 4 exhibition sponsored by the Enamelist Society.
Workshop Hours:
Wednesday – Friday, 10 AM to 5 PM , with meal breaks
Cost: $425 plus $20 materials fee
Materials List: Provided upon registration or when ready
Registration: Limited to 12
Refund Policy: No refunds unless your workshop position can be filled by another person.
Lodging, Meals, Transportation:
Coming from out of town? Check AirBnB, Priceline, and other discounted online lodging sources, The Center will try help you make your stay comfortable and stress free while you are a workshop participant.