This is the final post in our series of interviews with enamel artists included in the California Now exhibit at the Richmond Art Center. Read previous interviews here and here.
---
Nick Dong
Nick Dong studied painting and mixed media as an undergraduate, and metalsmithing and jewelry in graduate school at the University of Oregon, where Bettina Dittlmann introduced him to enameling. Dong lives in Oakland, CA, where he sits on the city's public arts advisory committee and has a studio. His work can be found on his website, studiodong.com, and at Mercury 20 Gallery in Oakland.
What drew you to this medium?
It is a hybrid medium between metal and glass.
How do you work with the media? Do you consider your techniques experimental?
I apply graphite drawing onto larger enameled metal surfaces, then fire more layers of translucent enamel on top to "freeze" the drawing within. My techniques are based on traditional enamel jewelry techniques, but I apply them to larger-scale pieces.
What role does enamel play in your creative process?
I appreciate the meticulous process. The slowness helps me filter my thoughts and solidify my idea into a brief yet essential sentence.
Where do you find the inspiration for your work?
For my enamel drawing series titled "Frozen by Fire," I drew inspiration from my own retrospective moments of significance. Right now I am working on a series of levitating, kinetic sculptures titled "Cosmic Dance."
What advice would you give someone just starting out in this medium?
Respect the technical aspect of the medium, but explore and develop your own unique aesthetics.
---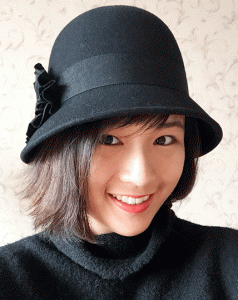 Zhou Zoe Yuan
Zhou Zoe Yuan has worked with enamel for about a year, since learning the basic techniques from Deborah Lozier in a course at California College of the Arts. In addition to appearing in California Now, she has shown her work at school galleries and sold at craft fairs and an American Craft Council show.
What drew you to this medium and what is your approach?
The vibrant color of enamel and the infinite possibilities of layering enamel are very intriguing to me. I like to experiment and see how different colors of enamel and different particle sizes of enamel interact with each other.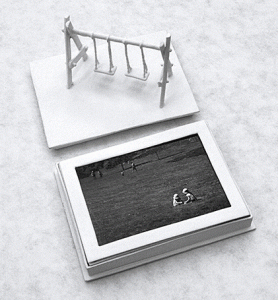 Where do you find the inspiration for your work?
I draw inspiration from my everyday life—my personal experience, memories, emotions, books that I read, people that I talk to, etc.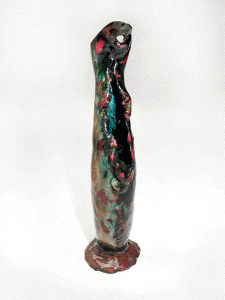 What are you working on right now?
I'm trying to incorporate enamel into more complicated metal forms.
What advice would you give someone just starting out in this medium?
Don't be afraid of mistakes. Only by experimenting can we get satisfying results.
---
Melinda Alexander
Melinda Alexander first tried enameling as a graduate student in art at California State University at Los Angeles, but then pursued a career as a jeweler and jewelry designer. She returned to enameling when she began teaching. Currently she shows her work at the Creative Arts Center in Sierra Madre, Somatic in Long Beach, and the Irvine Fine Arts Center (where she also teaches).
How did you get into enameling?
As an art student, I learned a lot from Bruce Metcalf, Carolyn Utter Rosser and Ed Forde. I found I had trouble working with colors even though I loved my painting teacher, Walter Askin.  I noticed that I enjoyed manipulating the metal and started working more in jewelry. Out of college I was a bench jeweler, wax carver, stone setter and designer for a number of jewelry stores, and during that time used very little enamel. It wasn't until I started teaching that I started working with enamel again and found I was no longer intimidated by the colors, and felt comfortable enough to really experiment.
Where do you draw inspiration for your work, and what are you working on now?
I find my inspiration from almost everything around me, not so much from other art but from nature, animals and the environment. I'm flooded with ideas that I don't yet have time to do. Currently I am trying to layer enamels trying to show a depth within the pieces.
What advice would you give someone just starting out in this medium?
If you are just starting this adventure in enamel, I would urge you to take a lot of classes with lots of different teachers, do workshops and experiment. There is so much to learn, and the more you know, the more you can do.