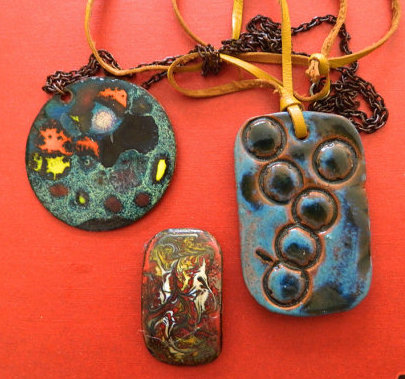 Quick: If I told you I'd bought an enameled pendant, what would come to mind? Something clumpy and heavy, with garish colors? Maybe a small, jewel-toned piece, carefully polished?
Enamel is a highly technical art form often taught as a craft. Like many crafts, it has been vulnerable to having a few specific aesthetics baked into it (so to speak). Work taught in jewelry or metalworking departments was often small, using cloisonne and champleve, layers of transparent jewelry enamel to create controlled, gem-like colors and effects.
Enamel got looser in the 50s and 60s, when kitchen-table enamelists, using small home kilns and glass threads and chunks, produced a burst of tiny Abstract Expressionist-ish works that had a more primitive, modern aesthetic than the work by their highly trained counterparts.
But the pieces were still small, still usually jewelry, and limited by the scale of the supplies and the equipment. The aesthetic became a cliche.
Since then, though, a shift has occurred, as enamel is taught less as a craft and more as part of the vocabulary of art. It is attracting artists who are discovering the terrific potential of enamels purely in service of visual ideas.
Take these works, for example, by British artist Lisa Traxler, for whom vitreous enamel on steel is just one of several media she works in. With their scale, volume, and attention to line and color, these are like three-dimensional paintings. They have more in common with the crushed metal sculptures of John Chamberlain than Faberge's precious eggs.
More work by Lisa Traxler here.
June Schwarcz, of course, was one of the original pioneers of enamel in service of art. She exploded the possibilities of jewelry enamel into pure form and color.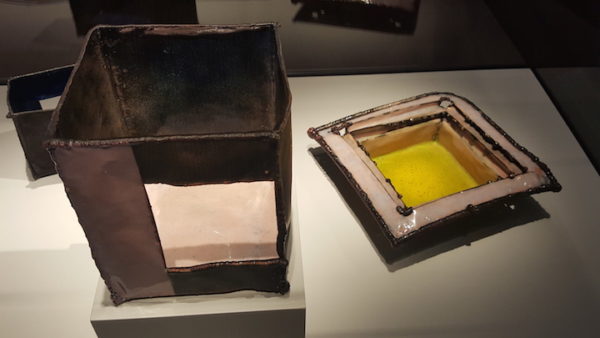 This Latvian artist has created large images from smaller copper pieces, much like enamelist Fred Ball.
And now back to jewelry: We are starting to see mainstream work that uses enamel for its rich color and permanent quality, but that strays from traditional techniques into a style that is more free, more inspired by visual art, as with this enameled silver ring from Gucci.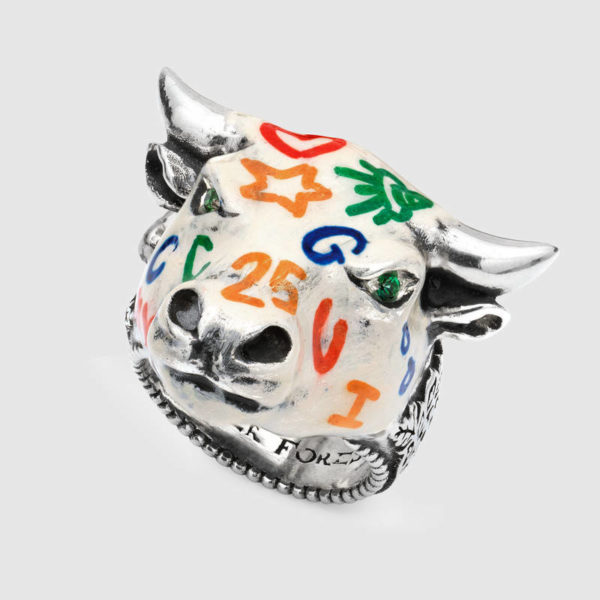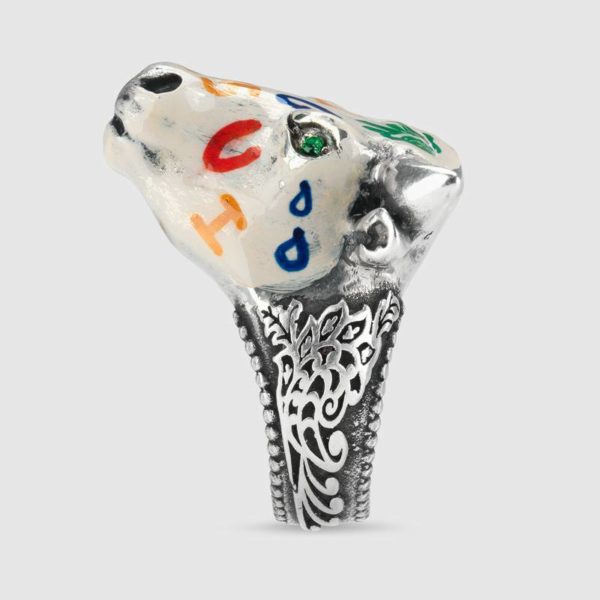 Do you have work that pushes the boundaries of the old enamel aesthetic? Show us! at gro.r1518951414etnec1518951414leman1518951414e@gol1518951414b1518951414.